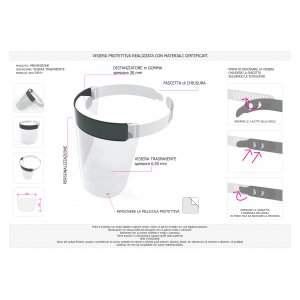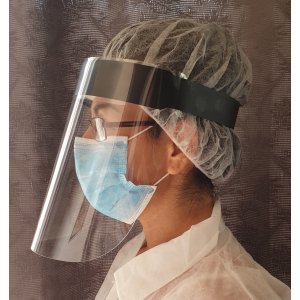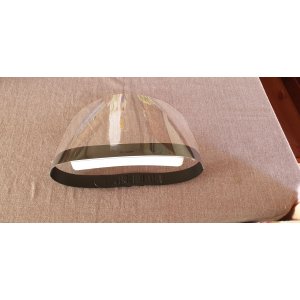 Protective visor with rubber spacer
Protective visor made with certified materials. Can also be worn with glasses
Description Protective visor with rubber spacer
Protective splash mask, also ideal with eyeglasses.
High quality face mask with high impact resistance, easy to put on, clean and disinfect.
It is a visor with a large, light, very stable and adjustable cover thanks to the closing strap.
It can be easily cleaned with a soft cloth moistened with warm water and soap and can be disinfected with a suitable disinfectant such as bactilemon.
How to use the visor:
1. Adjust the clamp by trying to wear the visor to choose the desired size.
2. Fold the tab and insert it into the slot to secure the band.
2. Remove the protective film.
3. Put on the visor
Pack of 1
Technical features
Transparent PET visor
30mm thick rubber spacer
Adjustable closing strap
IT IS NOT A MEDICAL DEVICE
Recommendations for use for the protective visor

This visor is a device that allows you to protect your eyes and face from the most common risks present in the workplace such as moving particles. It is perfectly suitable for work in multiple sectors, including: podiatry, tattoo, manicure, aesthetics, physiotherapy, osteopathy, and in all those fields where the operator is close to the client / patient.
They are also suitable for visits to industrial or healthcare environments. Also suitable for protecting operators in the Covid-19 phase.

Maintenance:
Cleaning the visor with warm soapy water is recommended.
Grade

Comments (0)
No customer reviews for the moment.
Customers who bought this product also bought:
Carts and furnishing accessories