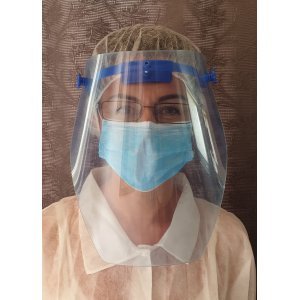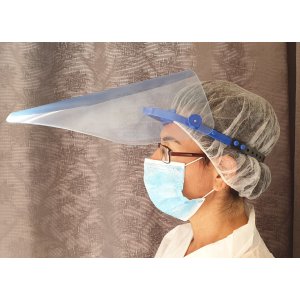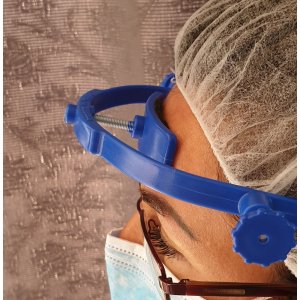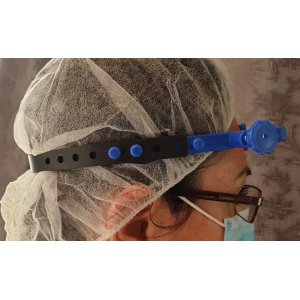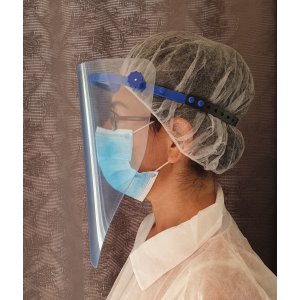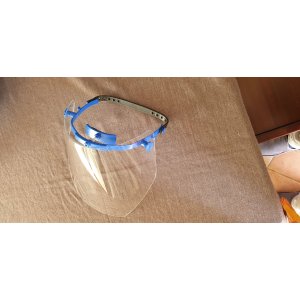 Professional mobile visor with adjustable spacer
Fully adjustable protective visor, can also be worn with bulky glasses or masks.
Description Professional mobile visor with adjustable spacer
Visors entirely MADE IN ITALY. Each part can be easily replaced with the original spare part. Comfortable and breathable thanks to the adjustable support on the forehead that allows you to have a freer forehead and visor at the distance you prefer from the face. 1.2 mm PET visor, one of the thickest on the market.
Fully adjustable, removable and completely disinfectable.
It can be easily cleaned with a soft cloth moistened with warm water and soap and can be disinfected with a disinfectant suitable for plastics such as bactilemon.
Single pack

How to use the visor:
1. Adjust the blue structure by positioning the elastic and adjusting the front support. try it until you reach the desired size.
2. Remove the two protective films from the visor.
3. Hook the visor to the structure using the two adjustable pins.
3. Put on the visor starting from behind the head.
We recommend using a single operator visor.


Technical features
Transparent PET visor
Adjustable spacer with rubber
Adjustable rubber closure
IT IS NOT A MEDICAL DEVICE
Recommendations for use for the protective visor
This visor is a device that allows you to protect your eyes and face from the most common risks present in the workplace such as moving particles. It is perfectly suitable for work in multiple sectors, including: podiatry, tattoo, manicure, aesthetics, physiotherapy, osteopathy, and in all those fields where the operator is close to the client / patient less than 1 meter.
It is also suitable for visits to industrial or sanitary environments and for the protection of operators in the Covid-19 phase.

Visor Maintenance:
Cleaning the visor with warm soapy water is recommended.
Grade

Comments (0)
No customer reviews for the moment.