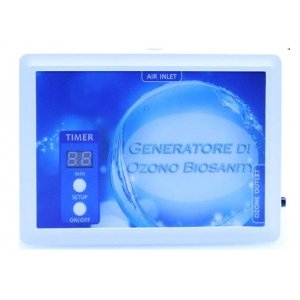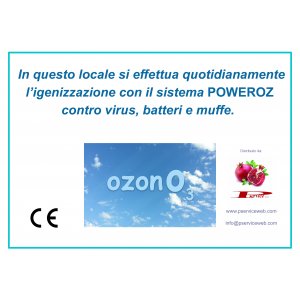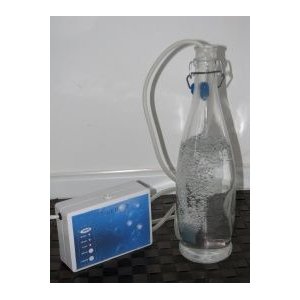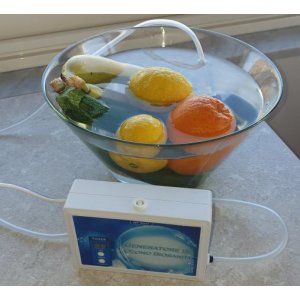 PowerOZ- ozone sanitizer for rooms
POWER OZ is an automatic sanitizing system that uses the strong disinfectant and deodorant power of ozone. It guarantees inactivation of bacteria, molds and yeasts
and also disinfects the places where it is more complex to arrive without leaving residues or smells.

Description of PowerOZ- ozone sanitizer for rooms
The PowerOz system represents an innovation in the field of ozone generation. So far, these systems have been used primarily in industry, in hospitals and in the therapeutic setting due to their cost and size. With PowerOz all this is overcome. In fact PowerOz is a product of contained dimensions, economic and easy to use, but above all safe and effective for:
- Air disinfection
- Water disinfection
- Elimination of protozoa and pesticides from food
- Elimination of odors
Ozone treatment
The environmental ozone sanitization treatment represents an innovative system for the disinfection and sanitation of air and environments, capable of eliminating bacteria and degrading all types of pollutants, including those suspended in the air.
The very high oxidizing power makes it an effective and ecological solution to deodorize, disinfect and cool rooms without using chemicals and without leaving traces or residues to be disposed of.
Ozone has been recognized by the Italian Ministry of Health (protocol No. 24482 of 31/07/1996) as a natural aid for the sterilization of environments contaminated by bacteria, viruses, spores and infested with mites and insects. It is particularly suitable for rooms intended for people to stay, in prolonged or crowded situations, for areas used for storing and processing food and for disinfecting ventilation and air conditioning systems.
Following the documentation provided by the EPRI (Electric Power Research Institute) and a group of experts who assessed the efficacy and safety of ozone in the processing and preservation of food, on June 26, 2001 the FDA, United States body In validation of the compatibility of ozone with human activities, the Department of Health and Human Services admits the use of ozone as an antimicrobial agent in the gas phase or in an aqueous solution in the production processes (treatment, processing, conservation) of foods such as meat , eggs, fish, cheeses, fruit and vegetables. In particular, document 21 CFR part 173.368 (register No. 00F-1482) has labeled ozone as a GRAS element (generally recognized as safe) or a secondary food additive safe for human health.
For whom the use of PowerOZ is recommended
Thanks to its small size, Poweroz has undoubtedly become the most economical and advantageous solution for everyone in the prevention of infections.
For home or for any commercial activity, PowerOZ is able, independently, to sanitize environments and eliminate odors; disinfection fruit professional studies, hotel rooms, ambulances, buses or campers, canteens, bars, restaurants, etc. It can also be used to disinfect water and to ozonate it, for the conservation of fruit and vegetables, to sterilize containers, to control and inhibit molds, to disinfect dishes, cabinets, shoes and shoe racks, etc, etc ...
How the PowerOZ sanitiser works
The use of Poweroz is extremely simple: once positioned, just set the time and let it act independently, without the help of any operator.
Some application examples:
- In environments such as rooms, rooms, cars, it is only necessary to connect the PowerOz to the electrical outlet and set the minutes to switch on according to the square meters to be sanitized. It is advisable not to frequent the premises 30min before it is turned off.
- For the disinfection of fruit and vegetables it is necessary to connect the tube supplied to the machinery and insert the appropriate stone at the end of the tube. Then connect the PowerOz to the electrical socket and set the minutes according to the following table.
- For fabrics: Wash clothes in water and insert the tube with the stone in the tray. In this way the garments are disinfected and the removal of stains is easier (time 10 - 15 milkings).
- Well-being: It can be used to decrease the tiredness of the feet by providing general well-being.
Template. PowerOz
Ozone output 400mg / h
Dimensions: Max: 14.5 × 10 × 4.5 CM
Net weight: 1.0-1.3Kgs
Power: AC220V ± 10% / 50Hz
Power in use: 12W
Gas / Min: 2-3L / minute
Max time: 60 minutes
Grade

Comments (0)
No customer reviews for the moment.
Customers who bought this product also bought: