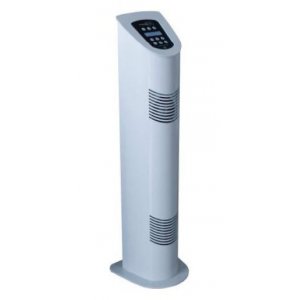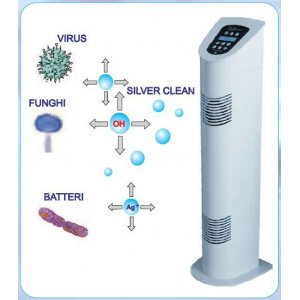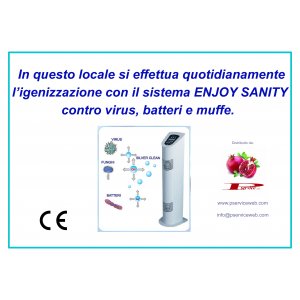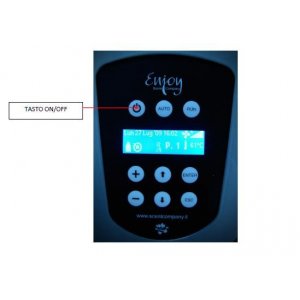 Enjoy Sanity - automatic sanitizer of environments and work surfaces
Enjoy Sanity is a new generation and fully automatic disinfection system that does not require the presence of an operator.
Description of Enjoy Sanity - sanitizer of environments and work surfaces
The Enjoy Sanity device combined with the Silver Clean hydrogen peroxide-based disinfectant solution is an effective product for the reduction of aerial and surface microbial load. It performs a biocidal action against viruses, gram + and gram - bacteria, against fungi and molds such as Aspergillus niger and against the Legionella bacterium.
It is a completely automatic SANITATION system, which allows a homogeneous diffusion of the active ingredients of the disinfectant product throughout the treated room, reaching even the most hidden corners where mechanical cleaning often does not arrive.
Furthermore, the use of Enjoy Sanity for SANITIZATION allows all equipment and tools, even the most delicate, to be kept inside the premises, as the compounds present in the vaporized solution do not present corrosive risks and rapidly degrading, guaranteeing the safety of personnel within the areas treated, if a short period of inability for about 30 minutes is respected.
Technical features
Power supply: V 220 - Hz 50
Max power absorbed: W 150
Serial ports: one RS 232 port - ready for 485 connection
Weight: Kg 7.00
Enjoy Sanity measures:
- Height: 73 cm
- Base: 22 cm x 22 cm
- Keyboard: 18 cm x 15 cm

Who is Enjoy Sanity recommended for?
Enjoy Sanity is the right answer to fight and prevent infections in all indoor activities, especially for those sectors most at risk such as:

- kindergartens and schools in which cases of flu epidemics, intestinal infections, exanthematic diseases and especially with a very high incidence of oro-faecal parasites due to manipulation and contact with contaminated objects and hands are recurring. The daily disinfection of the environments ensures day after day the decontamination both on the air and on the surfaces and objects thus reducing the risk of infections guaranteeing children a healthy community life.

- food companies both production companies and canteens and restaurants where the
risk of bacterial, fungal or parasitic contamination of the environments and therefore of the food becomes a community risk of important infections that in the most at risk people can even be fatal. The use of Enjoy Sanity in food storage and handling environments in accordance with HACCP regulations guarantees an important daily disinfection to prevent food contamination.

- wellness centers and gyms whose risk of contracting infections is linked to the presence of characterized environments
high humidity and high turnout in which the proliferation of pathogenic microorganisms causing respiratory infections (e.g. legionellosis) and dermatological infections (dermatitis, mycosis etc) is easy. To ensure an adequate level of safety Enjoy Sanity is the right solution to sanitize environments by guaranteeing a microbial level below the guard level and a guarantee for the structures.

- in public structures and offices there are countless sources of biological contamination, which can lead to an increased risk of contracting infections. Infectious diseases are in fact more easily and epidemically transmitted in closed environments, especially where many people live in close contact. Disinfection with Enjoy Sanity allows day after day to reduce microbiological growth and therefore the
risk of contracting infections and absences at work.

How the room sanitizer works
The Enjoy Sanity device is the most modern and flexible system for the vaporization of surgical instruments without the danger of corrosion and / or damage. Its operation is completely automatic with two pre-set programs which guarantee an optimal result, without the need for installation or personnel intervention for constant and correct operation:
> Program 1 - for a daily action
> Program 2 - for a shock action
It is possible to independently program each day of the week at a predetermined time.
Technical features:
Microbiological tests conducted by accredited external laboratories show that already after an hour of
Operation Enjoy Sanity determines a substantial reduction of the microbial load present both
in the air than on the surfaces.
With one hour of work, a room of 350 MC is sanitized
Grade

Comments (0)
No customer reviews for the moment.