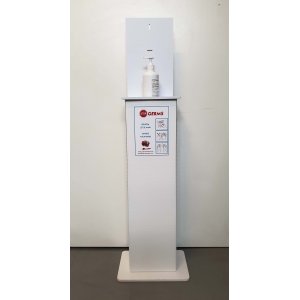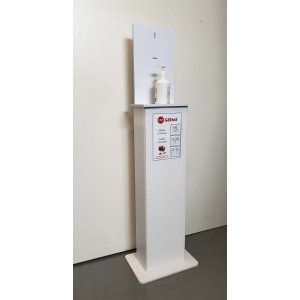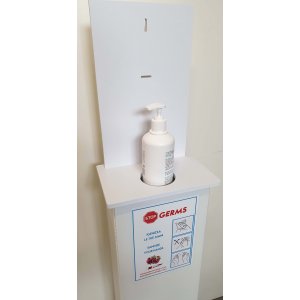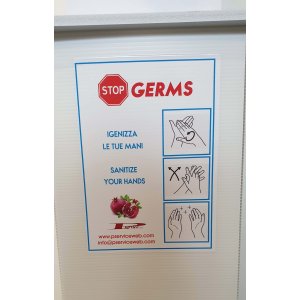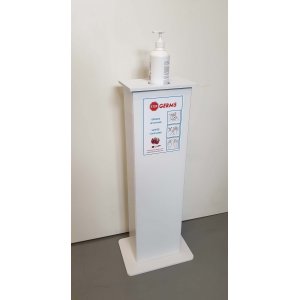 STOP GERMS column with 6 dispenser bottles
pad for sanitizing bottle with 6 bottles of hand gel
Description STOP GERMS column with 6 dispenser bottles
This delicious forex column is a courtesy floor lamp for sanitizing hand gel. It was designed with a housing for the bottle of hydroalcoholic solution. It constitutes a very linear and clean hygiene point that allows the rapid sanitation of the hands of those who access the premises.
If positioned at the entrance of the room, the customer / visitor will immediately notice it thanks to the indications above and it will be automatic for him to press the bottle to dispense the sanitizing gel.
It is accompanied by:
- 6 bottles of 500ml hand sanitizing gel
- 1 dispenser per bottle
 - STOP GERMS indicator print
- anti-drop surface
- housing hole for bottle (size 8x9.5cm)
- Also prepared for automatic dispenser
Dimensions: H1150 x P240 x L340mm
Attention: it is supplied disassembled with assembly instructions.
For those who recommend the sanitizing column
This sanitizing column with reduced dimensions and simple and linear appearance is suitable for any type of environment. It is recommended for any type of activity that provides access to the public but above all for the activities most at risk of infections due to the physical contact necessary for the work carried out such as: dental practice, beauty centers, hairdresser shop, tattoo studio, barber shop, physiotherapy, clinic, etc ...

The DECREE OF THE PRESIDENT OF THE COUNCIL OF MINISTERS of 26 April 2020, to prevent the spread of covid-19, recommends making available hydroalcoholic solutions for hand washing in all public places.
Grade

Comments (0)
No customer reviews for the moment.