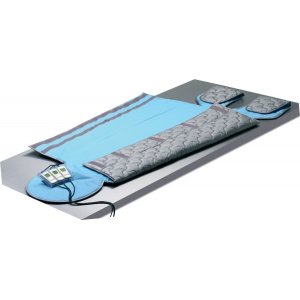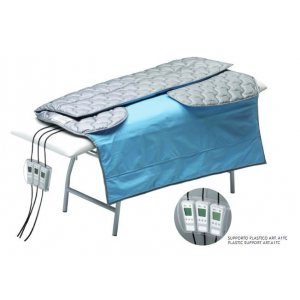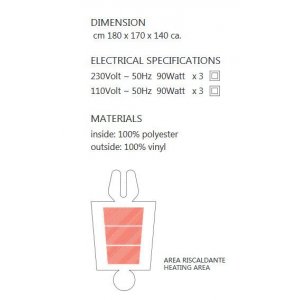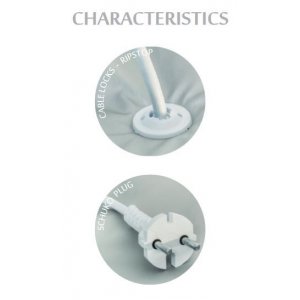 A real sauna without the mess of the sauna!
Description of the IDEAL SAUNA thermal blanket
This special electric blanket is ideal for sauna treatments.

Designed to wrap the whole body except the head is a perfect solution for those without a real sauna cabin.

It is divided into 3 independent areas (abdomen - buttocks - legs) and equipped with an electronic TController * device with adjustable temperature level.



Technical features of the sauna
Ideal Sauna has a conical shape designed so that the electric blanket can adhere / wrap the person properly;

It has a central velcro closure: when the electric blanket is open on the bed the weight is evenly distributed on both sides avoiding falling;

The power cables are collected at the foot of the bridge, so as not to hinder the work of the operator;

The control devices are always at hand thanks to the convenient 1x3 plastic support (optional);

Programmable timer from 10 to 60 minutes;

Manual shutdown program (4 hours)

Sound alarm

Supply voltage: 230 V ~ 50 Hz

Energy consumption: 90W x3

Composition: 100% polyester interior - 100% vinyl exterior

External fabric in quilted PVC

Dimensions: 180 x 170 x 140 cm approx
Made in Italy



Suggestions for using the IDEAL SAUNA thermal blanket
This electric blanket was created only for sauna treatments but, in the economy of the spa, it can also be used in treatments that normally take place with a normal thermal blanket, mud, clay, bandages, etc. For a long life we ​​recommend to always use inside the overalls and to proceed to a correct cleaning with water and soap, without the use of degreasers or aggressive chemicals. Recall that essential oils are among the worst enemies of the tissues.
Grade

Comments (0)
No customer reviews for the moment.
Customers who bought this product also bought: