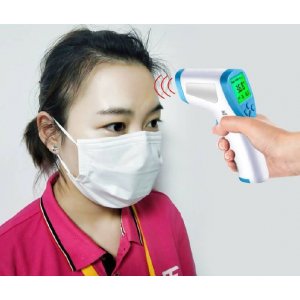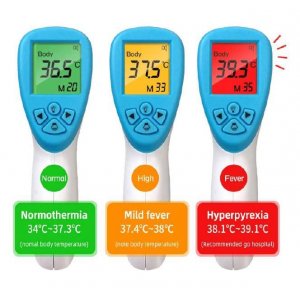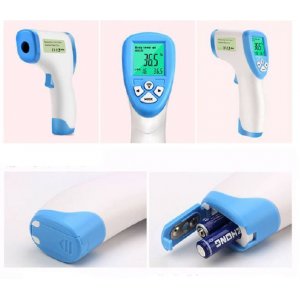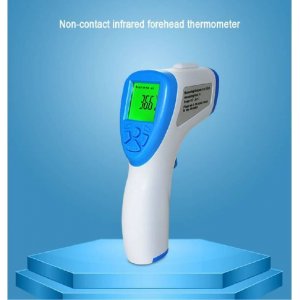 non-contact infrared gun thermometer
NO-Touch infrared thermometer with high precision sensor
Quick measurement in one click
Description of the non-contact infrared gun thermometer

This thermometer is a very high quality instrument that uses innovative technology tested in compliance with international standards.
Thanks to its advanced technology it can provide fast measurements in one click.
Just approach it to the forehead at a distance of 3-5cm, press the button and wait less than 1 second.
The energy saving system and the automatic stand by guarantee a continuous use of up to 7 days. It's powered with 2 batteries 1.5V AA type (not included)
Features of the no touch thermometer:

- Storage of the limit temperature
- Measurement of body temperature
- Three-color backlight
- 7 days of standby
- Automatic standby after 15 seconds
- With fully charged batteries it can be used for up to 7 days
- Save smart charge
- Smart three-color backlight reminder, green (normothermia), orange (mild fever), red (hyperpyrexia)
Technical features:
1 Basic parameters
Measurement tolerance: 0.1 ° C (0.1 ° F)
Operating temperature: -20 ºC-55 ºC
Operating ambient temperature: 5 ºC-40 ºC, the best temperature is 25 ºC
Relative humidity: ≤85%
Power supply: DC 3 V (2 AA 1.5V batteries not included)
Specifications: 160x100x40mm
Weight: 100 g
2 Measuring range
Body temperature measuring range: 32.0-42.9 ºC
Measuring distance: 5-15cm (the best measuring distance is 5cm)
Automatic shutdown: 20 seconds
3 Accuracy of measurement
32-35.9 ° C (93.2-96.6 ° F): ± 0.3 ° C (0.5 ° F)
36-39 ° C (96.8-102.2 ° F): ± 0.2 ° C (0.4 ° F)
39-43 ° C (102.2-109.4 ° F): ± 0.3 ° C (0.5 ° F)
4 Useful life
About 40,000 times
 Who can use the infrared gun thermometer

The latest anti-covid-19 safety procedures provide for the control of body temperature to all people who access public or private premises. This, to be quick and safe, can be carried out using technological tools such as non-contact infrared thermometers or automatic scanners. For this reason the use of the thermometer is becoming widespread not only in shopping centers or public offices but also in commercial activities including: beauty centers, tattoo studios, physiotherapy, hairdressers, restaurants, supermarkets, etc ..
Grade

Comments (0)
No customer reviews for the moment.