"Ai sensi delle Nuove Linee guida del Ministero della Salute del 28/03/2013, relative alla pubblicità sanitaria concernente i dispositivi medici, si avvisa l'utente che le informazioni ivi contenute sono esclusivamente rivolte agli operatori professionali"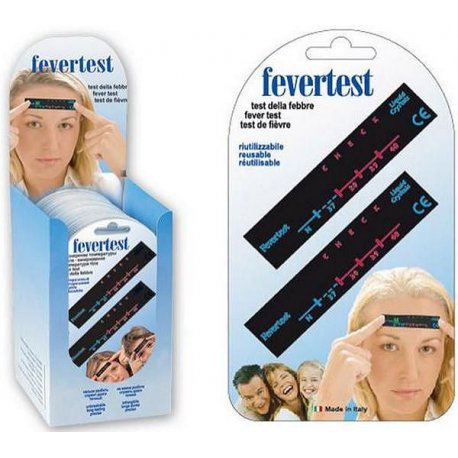 View larger
Forehead thermometer fevertest reusable - blister 2 pcs.
EM050308
New
May be required 2 days more for delivery
This product is not sold individually. You must select at least 1 quantity for this product.
Warning: Last items in stock!
Availability date:
Reusable forehead thermometer. Non-toxic, mercury-free, safe, unbreakable, reliable, durable, easy to read. It detects the normal temperature or fever in 15 seconds. User manual in 10 languages. Manufactured in Italy. Includes 2 pieces. Digital indicator of body temperature to microencapsulated liquid crystals. How to use: place the indicator to the front for holding dry ends. After 15 seconds, if in addition to the letter "n" appear more numbers, the temperature corresponds to the highest value. In the event of a rise in temperature, consult doctor. Perform the test at room temperature, under the supervision of an adult. Clean the indicator with soapy water (without dip), or with sanitizing medical products that are recognized. Do not expose to direct sunlight, keep away from high heat, alcohol and solvents.
30 other products